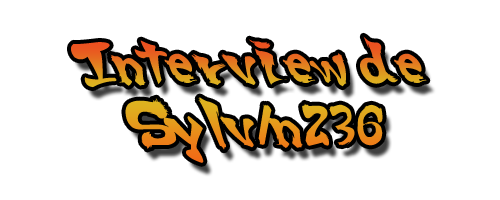 Peux-tu te présenter brièvement ?
Salut tout le monde, donc bah je m'appelle Sylvain, j'ai 19 ans, j'habite au Puy-de-Dôme et je suis un geek insociable.

Je précise que tout ceux que je vais écrire c'est réellement sincère.

D'où vient ton pseudo ?
C'est un histoire à chier. C'est mon prénom où j'ai remplacé « ai » par 1 et le 236 vient de 632, mon département parce que mon père voulait pas que je mette 632 mais si ça tenais qu'à moi je les enlèverais.
Comment as-tu connu le forum ?
Comme pas mal de personnes, suite au déménagement de Ps3 Trophées, bah je suis allé sur Gamerlive pendant 5 min et ça m'a saoulé. Suite à cela Nico a placé une annonce concernant Trophy-Union sur Graphic-Union et donc je suis venu.
Depuis quand chasses-tu les trophées ?
Depuis 2010 je crois, c'est un pote qui m'a demandé combien j'avais de trophées. Moi ne comprenant rien je lui demande des explications et c'est de là que j'ai commencé ma quête des platines.
Quel a été ton premier trophée?
Quel est le platine dont tu es le plus fier ?
Je ne sais pas réellement parce que tout mes platines, je les ai fais parce que j'aimai ces jeux du moins la licence. Mais disons à ce jour Gravity Rush ce jeu est fantastique, l'histoire est génial et l'univers m'a
beaucoup
plus. OUUUUU celui de Need For Speed Undercover parce que j'ai mis la branlée à quatre mecs tout seul pour un trophée avec 3 mecs qui ne jouaient dans mon équipe !





Tout est relatif
Tu as remporté tous les trophées. Bravo !

24/04/2013 à 21:41:23
1 235 sur 4 476 (28 %)
difficile





Trophée platine
Trophée platine

15/03/2011 à 17:38:49
1 436 sur 4 912 (29 %)
difficile

Et au contraire, celui dont tu as le plus honte ?
Need For Speed Hot Pursuit parce que je me suis fais insulté comme si je devais être un PGM d'l'mor ki tue wese. Le pauvre mec croyait que j'avais pour ambition de devenir un joueur de NFS et voulais que je soie rejeté par toute la communauté de jeu parce qu'il avait des contacts avec des top player, faire une vidéo sur moi, bref encore un dégénéré des multijoueurs.





Élite NFS Hot Pursuit
Obtenir tous les trophées Need for Speed(TM) Hot Pursuit

18/06/2012 à 20:07:04
2 072 sur 8 227 (25 %)
difficile

As tu un objectif niveau trophées?
Oui mais c'est déjà un échec. Je voudrai obtenir le platine de tout les jeux que j'ai adoré mais dans ces jeux se trouve les DBZ Raging Blast 1 et 2 sur lesquels il y a des trophées multijoueurs et sans déconner … qu'est que fous un mode multijoueur sur un jeu comme ça !!! PHOQUE !!! Sans parler des Street Fighter où je n'aurai jamais le skill qu'il faut pour faire certains combos du style Saut HK Bas MP Bas MP Bas MK Shoryuken FADC Ultra 1 !

Sinon, quel est ton style de jeu favori ?
Je sais pas j'ai toujours bien aimé les jeux de baston encore plus maintenant que je suis dedans peut-être les RPG, j'hésite franchement. J'aime tout les types de jeu sauf les survivor / horror, je n'arrive jamais à choisir.

Quel a été ton parcours vidéo-ludique ?
Etant tout petit, j'ai pu toucher à l'Amstrad 6048 de mon père.
Puis j'ai passé de trèèèèèès longues heures sur la Super Nintendo de mon frère et de ma sœur avec Street Fighter 2 (J'ai une anecdote pour toi Iron

), Killer Instinct, Super Mario World, Super Mario Kart, et 2/3 autres jeux.
Puis est venu la PsOne avec Rayman que j'ai jamais joué puisque je n'arrivai pas à conservoir qu'une personne n'avait pas de bras ni de jambes puis viens Spyro 2, Tekken 3 (YEEEAAAH!), Rival School, Crash Bash où j'ai bien dû passer plus de +500 heures, etc...
La GBA, GBA SP (et la DS au passage) avec tout les jeux Pokémon.
La Ps2 avec tout les jeux Dragon Ball, One Piece, Naruto, Kingdom Hearts, Seven Samurai 200XX, Jak & Daxter, Ratchet & Clank, Sly.
La 360 avec LES BEST NARUTO GAME EVER : Naruto Rise of a Ninja et Naruto the Broken Bond. POINT BARRE !!!
Et la Ps3, avec tout et n'importe nawak, One Piece, Dragon Ball, Darksiders, Bulletstorm, LittleBigPlanet, Street Fighter 4. Mais je préfère ma chère Playstation 2.
Ah oui ! Et la Wii avec les 2/3 Marios que j'ai actuellement dessus.

Ta meilleur et ta pire expérience ?
Ma meilleur expérience : Kingdom Hearts, mon jeu préféré franchement j'ai adoré ces jeux même si j'ai pas fini le 1... j'ai tout simplement pleuré à la fin du 2. J'ai rien à redire sur ces jeux. J'ai presque envie de pleurer en y repensant.
Ma pire expérience : *roulement de tambours* Caaaaaall of Duuuuutyyyyyy !!! Sérieusement ce jeu m'a rendu rageux maintenant je joue à un jeu multijoueur je m'énerve. Les multijoueurs sont inutiles. Je veux pas lancer un débat parce que … parce que PHOQUE IT ! Mais j'ai quand même pu élargir mon expérience de jeu aux FPS et TPS grâce à cette licence. Le meilleur pour moi reste Modern Warfare 2.
Quel perso de jeux vidéo aimerais-tu être ? Et pourquoi ?
Si on peut m'accorder Broly. (vu qu'il y a des jeux DBZ

) Sinon bah eeeeeeeeeeuh..... OUAIS Vincent Valentine que j'apprécie beaucoup parce que il a la classe. Et j'adore son petit humour dans Advent Children (le film hein j'adore quand il arrive avec le Behemoth et qu'il sort « Vous savez où je peux trouver un téléphone »

) mais plus Broly quand même. MWAHAHAHA !!!
Combien de temps passes-tu sur la ps3 par semaine ?
Vu que je suis en vacance disons dans les alentours de 40 heures, je sais pas du tout.
Que penses-tu des rumeurs sur la next gen (le tout dématérialisé) ?
Je vais droit au but : la dématérialisation c'est à chier même si cela permet aux jeux indépendants de se dévelloper, NON ! Sérieux pourquoi y a pas de boîte pour Sonic 4 Episode 1 et 2, pourquoi y a pas de boîte pour Megaman 10 ou même de Tokyo Jungle qui n'exsite qu'au Japon !!!
As tu d'autres consoles ?
En plus des consoles cités précédemment, j'ai la Megadrive II, la PsVITA et c'est tout ce que j'ai à rajouter.
Sinon as-tu d'autres passions que la ps3?
J'ai les mangas puisque je suis assez Otaku, je compte me lire tout un tas de mangas notamment Naruto (que je presque fini), Bleach, Fairy Tales, HxH, etc, etc …. Et le graphisme bien sûr, quand ça me prends je me fais un petit kit avec un perso que j'aime bien sur le moment. Je pense que la prochaine sera Hinata pour le coup.

De qui voudrais-tu avoir une interview la prochaine fois?
Nico !!!

---
Questions des membres
---
IronAlex
Vus que nous sommes FAN de la même série de jeux de baston (SSF) dit moi comment tu as connus cette série ?
J'ai joué à Street Fighter 2 étant tout petit (3-4 ans peut-être), d'où l'anecdote dont je parlai : en faite j'ai jamais pu vaincre Bison puisque je rebootais la console dès que je voyais Dhalsim, j'en avais une trouille, le même problème de Rayman, je n'arrivai pas à conservoir qu'un mec pouvais étirer ses membres et cracher du feu sans compter les yeux blancs.

Mais bref et donc y a 6 mois j'ai acheté Super Street Fighter 4 Arcade Edition auquel j'ai décidé de me mettre pour encore très longtemps sachant que Ultra Street Fighter 4 est annoncé pour 2014.

Quel serai ton personnage préfére a jouez ?
Mon main est T. Hawk, je taffe mon gros indien depuis déjà 4/5 mois. Et je compte toujours rester dessus bien que cela soit un des persos les plus faibles du jeu (pour mon niveau parce que les japs c'est des monstres) bien qu'il va subir un buff dans Ultra SF4. Mais sinon je taff un petit Cody que j'apprécie beaucoup aussi pour sa personnalité de blazé complet.
Comment vois tu l'annonce du multi payant sur PS 4?
Simplement que je n'aurai pas le multijoueur puisque mon père ne paiera pas un abonnement pour jouer en ligne et je refuse aussi vu la connexion de PGM que j'ai. (Pour info j'ai une co inférieure à 0,2Kb/s

)
Si je te dit "Concour Zoukei" cela te parles?
Le nom me dis quelque chose mais quoi à toi de me le dire.

Les éditions collectors tu en penses quoi?
J'adore les éditions collectors mais je ne ferai pas comme mon cher ami Wadd', moi je me limiterai au jeu que je souhaite par dessus certains autres.

Une que j'achèterai même si j'ai pas la Ps4, c'est celle de Kingdom Hearts III !
Le joueur du grenier tu aimes ou tu déteste ? (attention a ta réponse...)
J'adore le Joueur du Grenier (si tu me dis que tu déteste ça va chier des bulles servères!

). Tout est génial dans ces vidéos. Je m'amuse même quand je les connais par cœur à faire à l'identique pendant que j'écoute la vidéo (ce que je fais avec beaucoup de choses qui me font rire) sauf que lui j'arrive pas à faire sa voix

Qu'est ce qu'évoque le Nutella pour toi?
Quelque chose que je ne mange que très rarement.

Steak frites ou purée saucisse?
Steak/Frites si le steak est saignant et les frites pas grillés sinon bah Saucisse/Purée.

Quelle serai la voiture de tes rêves?
La Nissan Skyline GT-R 34, j'en suis tombé amoureux depuis Fast & Furious 2 et pourtant je m'en pète des voitures.
Si tu avais le droit de passé une journée entière avec une célébrités (acteur, chanteur, mannequin...) qui sa serai?
Euh personne déjà pas un homme c'est sûr et pas une femme parce que je pourrai pas jouer tranquillement !!!

Le dernier film qui tu allais voir?
IronMan 3 pour faire plaisir à des potes.
Et le prochain que tu projeté d'aller voir?
J'aurai voulu allé voir Very Bad Trip 3 ou Fast & Furious 6.

Dans quel bien immobilier habites tu ?
Dans une maison... si j'ai bien compris ta réponse... plus précisement dans le sous-sol parce que le geek que je suis ne supporte pas la lumière. JE DECONNE !
Tu crois que l'on peux concilier vie de famille est chasse aux ?
Sachant que j'ai 19 ans, que je n'ai jamais eu de copines disons que j'en sais rien. Si le mec a une femme qui aime pas les jeux, ça pose problème pour elle par pour toi puisque elle aura des bleus XDDD. Non franchement oui je pense que l'on peut concilier les deux ensembles tant que chacun respect la passion de l'autre mais quand je vois la génération de pétase (référence Joueur du Grenier) qu'on se trimbale bah c'est mal parti.
Gulgan
1) Qu'est-ce qui t'as décidé à faire des créations graphiques ?
Je me suis mis au graphisme quand j'ai vu ces petites images sous les messages des gens sur Ps3 Trophées surtout celle de Serawyr et Zoku qui sont magnifique et quand je me suis inscrit et que j'ai vu qu'il y avait des concours pour le lolz, je m'y suis mis notamment avec une signature de Naruto.
2) Qu'est-ce que tu écoutes comme musique ?
Comme musique « normale » : j'ai bien aimé Eminem à une époque. Sinon bah la musique que j'écoute c'est les musiques de jeux vidéos, les openings de mangas, etc...
3) Une musique de jeux vidéo que tu adores ?
BEST MUSIQUE EVER SANS COMPARAISON OU QUOIQUE CE SOIR D'AUTRE LE GUILE THEME DE SUPER STREET FIGHTER 2X ou TURBO.
Cette musique a quelque chose qui fait qu'elle va avec toutes les situations même quand on va aux toilettes !

Tu joue avec ça en fond sur une borne d'arcade c'est génial !
4) T'en as pas marre de jouer aux VDD ?
Non je m'amuse beaucoup, on apprends des trucs sur les membres et si y en a qui pense que je fais ça pour le nombre de message... bah... vous fumé les même cigarettes qu'Asuma dans Naruto.

5) Tu peux l'avouer maintenant, tu en pinces un peu pour Stella ?
OH MON DIEU OUI ! OUI JE L'AIME ! JE N'ATTENDS QUE CA DE LA RENCONTRER ET LUI DECLARER CE QUE JE PENSE D'ELLE !
http://youtu.be/D36qwIsbVcs
J'ai que 19 ans je rappelle, elle en a … que 4 de plus AH BAH C'EST BON !!!

Non franchement j'aime beaucoup son talent pour le graphisme et elle a l'air très gentille après voilà c'est pas parce que y a une personne du sexe faible (Référence Benzaie les filles on se calme!!!) que je suis comme les mecs qui passent leur temps à matter et baver. C'est un truc qui me saoule ça en plus.

C'est vraiment pas ma personnalité.
Waddle
1- Penses tu que le second opus de OP sera aussi chiant à platiné ?
Connaissant Namco Bandai... Oui le même niveau que Dragon Ball Raging Blast 1 et 2. Et ça serait vraiment dommage mais bon on fera avec. Par contre je crains que tu n'y jouera sans moi mon ami puisque que je ne l'aurai pas Day One.

2- OP PIRATE WARRIORS non platiné, tu comptes lui régler son compte un jour ?
Oui il fat parti des jeux à platiner sur ma liste. Mais c'est vrai que cette idée de pièces est chiant surtout qu'elle n'apporte rien au gameplay, les bonus fournis sont ridicules c'est nawak !

3- T' es pas fan de Naruto, mais au fond de toi sais-tu que tu loupe le meilleur mangas des années 2000 ?
Je suis pas fan de Naruto mais j'aime bien Naruto. Je sais très bien que c'est un des meilleurs mangas actuels mais franchement c'est ridicule. Je m'explique :
Dans Naruto, Naruto au début est un gamin inssuportable, Sakura est une fille qui se prend pour une fan hystérique de Justin Bieber et Sasuke fait genre « j'sui tro d4rk! »
DansShippuden c'est nawak les attaques ressembles à rien y a de Rasengan de partout, le Naruto se multiplient 100 fois et chaque clone fait un Rasengan. Sasuke est un abruti totale, il veut détruire Konoha parce que Itachi meurt parce qu'il voulait protéger Konoha. Sakura passe encore bien que je n'ai pas du tout apprécier son mensonge sur ses sentiments envers Naruto. Oui parce que faut savoir que je m'intéresse plus aux histoires de couple qu'aux combats parce que y a des combats faut pas abuser le mec qui invoque un palourde, non merci et y en a d'autres. Pour preuve ma perso favorie est Hinata, elle a la même personnalité que moi. Et ma scène favori est quand Hinata dis à Naruto qu'elle l'aime suivi de la retrouvaille entre Naruto et sa mère où j'avais la gorge nouée. Tobi qui pourrait être comparé au Chevalier des Gémeaux dans les Chevaliers du Zodiaque la Série Abrégée. Et puis aussi le Mangekyou Sharingan qui a un niveau supérier qui est le Rinnegan franchement c'est nawak. On dirait que le manga essaye de trouver des trucs pour faire avancer l'histoire, c'est limite de l'impro bien que cela paraissent absolument logique. C'est un très bon manga mais je le trouve assez ridicule.
Je viendrai sur le topic Naruto quand je vous aurai rattrapé.

De toute façon Dragon Ball Z > All.
4- Proverbe à compléter : Entre enculé y a pas de .... !!!
problème tant que y a de la vaseline ? Non je sais pas...
5- Devinette : Qu' est ce qui est rouge et qui pue la moule ?
Alors là aucune idée. Par contre j'ai une blague qui …..
6- Penses tu faire une battle avec STELLARTISTE ?
Euh non après si vous voulez en voir une pour me faire ridiculiser pourquoi pas moi perso je m'amuse à faire des signatures. De toute façon, je savais déjà qu'elle avait un style préférable au mien pour le fofo.

7- Raconte nous la plus grosse fessé que tu as mi à Coach Iron sur SF !!!
Je réponds quand même MWAHAHAHA ! … Je sais pas je ne pense pas lui avoir mis un double P (Perfect) donc bon ...
Spike
1-Comment ça va là tout de suite?
Impeccable, je me demande ce que je vais faire après avoir écrit l'interview.

2-Les nouvelles TC arrivent quand alors? (ça commence à faire long là...)
Regarde le topic que j'ai posé hier les réponses y sont.

3-Raconte nous ta 1ière fois... sur TU!
Je me souviens que quand je me suis inscrit, j'étais très content que retrouver des gens de Ps3 Trophées que je ne connaissais pas comme je les connais aujourd'hui.

4-Une anecdote sur un membre? (j'adore cette question! )
J'en ai pas vraiment pour le coup, pourquoi pas quand Gulgan c'est fait un trip avec le fait que des fois j'oublie des mots à mes phrases (sans explications

) et qu'il me conseillai d'acheter des lunettes et quand j'ai pû me venger, il a zlatanné mon message en truquant son nombre de messages à je sais plus combien de millions.

5-Entre un saut à l'élastique et un saut en parachute, tu prends lequel?
Aucun j'ai le vertige à peine je monte 3 pauvres échellons d'une échelle.

6-Quel est ton top 3 des choses à faire avant de mourir?
Number Three : Complèter ma collection de mangas ou tout ce qui s'en rapproche.
Number Two : Complèter ma collection de jeux vidéo (avec ma liste que tu connais mon cher Spike

)
Number One : Aller au moins une fois au Japon

7-Veux-tu faire parti de l'équipe "PayDay" avec Nico, Waddle et moi? (Allez viens mon coquin...)
Je sais même pas ce que c'est que ce jeu. J'en ai jamais entendu parler à part toi Spike. Je vais voir tout de suite après avoir fini l'interview.

8-Entre nous, n'es-tu pas un peu jaloux de savoir que Stella est absolument folle de moi?
Je pense que tu as vu ma réponse à Gulgan.

9-Je viens de recevoir un message de Fred. Il me laisse le choix entre : Décapitation, pendaison, brulé vif et mort par noyade. Tu prendrais quoi toi?
Brulé vif !!! LE FEU !!! Ca règle tout !!!
10-Plus sérieusement, cites-moi un de tes rêves?
Oula un de mes rèves dans le sens quand on dors (?), je me demande ce que tu t'attends à lire … hmmmmm... y a très longtemps j'avais fais un rêve, j'étais dresseur de Pokémon où je défié en duel Sacha.

Y en a d'autres mais pour le coup je ne les dirai pas.

et si c'est dans l'autre sens, bah regarde ta question avec le top 3.

11-Encore mes félicitations pour ton BAC, quel est le prochain diplôme visé?
Merci encore Spike. Je vais faire un BTS Comptabilité et Gestion des Organisations.

Défi : La Malédiction de l'Avatar.

(Wah ça serait un nom pour une carte Yu-Gi-Oh ! Ça

)
Et bien écoute j'accepte le défi !!! C'est l'heure du Du-du-du-du-DUEL !
Et pour les thèmes que je vais choisir sont …
Les dessins animés (tout et n'importe quoi mais je sais pas pourquoi je pense à My Little Poney ou Dora bof on s'en fout...)
Les films
J'ai pas d'idées donc voilà sinon y a bien du Hentai mais j'en connais pas d'ailleurs euh Spike je crois savoir que High School of the Dead, c'est un Hentai, non ?
Stella
1- Est-ce que tu dessines ? Si oui, peux-tu nous en montrer un ?
Oui je dessinai quand j'étais plus petit, j'avais pour ambition de faire mon propre manga nommé Player où 2 garçons et une fille se retrouvait pour un tournoi de jeu tellement avancer que les gens entrer dans le jeu mais il s'avérai que l'organisateur est un méchant (oula cette intrigue) et que le jeu s'avère être réel, etc... alors y a aurai eu des pouvoirs, etc... avec 20 niveaux jusqu'à arriver au boss qui serait le méchant mais dans le vrai monde. C'est clair que vu comme ça même Naruto c'est plus logique ou même le combat entre Freezer et Sangoku.

Bref voilà juste le logo du manga en question, je me susi rendu compte en cherchant que je n'ai plus du tout de dessin concernant ce manga:( :
2- Qu'est-ce que tu vénère le plus au monde ?
Acutuellement … mes jeux … je ne sais rien faire d'autres, je suis pas manuel du tout, je suis pas sportif, rien... et puis je m'amuse tellement que je suis content ainsi.
D'ailleurs je me retiens de faire une blague avec la question de Gulgan mais ça me démange.

3- Comment te vois-tu dans 10 ans ?
Dans 10 ans, je me vois toujours autant joueur déjà après dans un appartement avec des problèmes financiers parce que le boulot pour en trouver voilà … et célibataire à moins que … (non j'ai dis que je ferai pas cette blague.)

4- Pars-tu en vacances cet été ? Si oui, où ? Si non, où aimerais-tu aller ?
Non je pars pas en vacances de toute façon j'aime pas être en dehors de l'Auvergne.

Où j'aurai voulu venir te voir pour te déclarer ma flamme !!! (bon voilà j'ai fais ma blague pourrie) non franchement nul part je suis mieux en Auvergne.
5- Qu'est-ce que tu prends au p'tit dej' ? xD
Des pitits gâteaux et quand j'ai envie d'être posé un bol de cacao et des madeleines.

xrobustox
1) Pourquoi aimes-tu tant les jeux de combat ?
Comme je l'ai dis à IronAlex, c'est simplement que j'ai redécouvert y a environ 6 mois les jeux de combat pourquoi bah parce que j'ai toujours trouvé ça drôle de jouer à ce genre de jeu et le fait qu'il y est de la compétition est aussi très sympathique.
2) Lequel est ton préféré et pourquoi ?
Mon préféré est Super Street Fighter 4 Arcade Edition parce que c'est celui qui me plait le plus étant donné que je me suis arrété à Tekken 4 parce que je trouve ça ignoble de faire subir à Yoshimitsu ce qui lui ont fait subir, le seul VRAI Yoshi, c'est celui de Tekken 3 et c'est tout !!!.. Mais je compte me mettre à SFxT, BlazBlue CD Extend que je viens d'acheter, sinon y a aussi Persona 4 Arena, Tekken Tag Tournament 2, etc...
3) Si tu devais rajouter une rubrique sur T-U, laquelle serait-ce ?
Elle existe déjà mais personne ne peux réellement faire des topics. Celui des tests, on pourrait en faire à l'écrit voir même en vidéo.
4) Pepito ou Granola ?
Pepito très clairement.





LittleBigFransai



-Qu'est ce que tu pense de mon infériorité sur SSF4 mais ma supériorité sur LOL?
Ah bah écoute mon cher LBF, si tu veux t'y mettre réellement, je t'aide à la taffer ton perso cheaté ta Cammy.. Je connai les combos de base mais bien qu'elle soit assez rapide, et tout le tralala, il reste à savoir maîtriser le timing des combos.

Par exemple (Ouais je me la pète, je connais des combos

) Saut Gros Pied Bas Gros Poing Bas Moyen Pied Gros Spiral Arrow. En ce qui concerne ta supériorité à League of Legends sache que les MOBAs sont définitivement pas mes jeux de prédilections et encore moins les free-to-play, ça me prends la tête.

-Pourquoi Hinata?
J'aime beaucoup Hinata, je trouve qu'elle a un peu la même personnalité que moi. Elle est sans cesse timide moi elle sait dire ce qu'il faut quand il faut

. Après je rajoute qu'elle est assez mignonne comme personnage, peut-être aussi parce que je retrouve ce que je voudrai retrouver chez les filles de maintenant après je sais pas

. Après c'est aussi la seule perso réaliste du manga pour moi, elle est comme nous et sans doute parce que c'est pas la fille qui passe son temps à péter un câble parce qu'on parle mal de Sasuke ou comme Nami parce que Sanji veut son corps

, elle est calme comme moi. (bon sauf qu'elle a des yeux qui permettent de voir les liens de chakras, etc...) Mais voilà j'aime beaucoup Hinata et j'espère qu'elle sera avec Naruto.



-Bob Lennon ou Ken Bogard?
OOOOUH sacré question là. Non franchement je préfère Monsieur Lennon à Monsieur Bogard. Le premier étant un très bon connaisseur des jeux vidéos, j'adore son humour, je me retrouve assez dans sa manière de jouer et surtout dans sa façon de faire notamment passer le plus claire de son temps à troller et faire des voix diverses et variés, j'adore ça et j'ai assez l'impression d'avoir eu le quasi même parcours que lui (jeux voire même perso). Après Ken Bogard est un trèèèèèèèèès grand commentateur de jeu de combat et quand on pense que c'est un ancien prof de maths moi j'apprécie beaucoup sa fçon de commenter. Ma phrase favorite : « Le Dragon Cancel Avant H Kick To Ultra ! Je lâche mon casque je m' barre ! » que j'aime retrouver à chaque début de son intro.